Steps to having a new service built or existing service relocated:
Notice: You must contact Warren Electric Cooperative if any of the following is true:
You do not currently have an account or service with Warren Electric Cooperative
The property doesn't currently have electric services
New pole(s) must be installed in order to reach the metering point
To make alterations to existing service

Please call or visit the office to begin the application process. A representative of Warren Electric Cooperative will need the following information:
Location of the closest WEC pole number, account number, or meter serial number
Full legal name and billing address
Work, home or cell phone numbers
Type of service (example: 100 or 200 Amp single phase or three phase)
An appointment time and place to meet with the staking engineer

Please do not begin installation of electric service until after meeting with engineer with an approved location.
Notice: The engineering department cannot meet with you about your service until the above information has been submitted to the office.
Please note if you are unable to keep your appointment for any reason please let us know.
Engineering Drawings & Specifications:
120/240 Single phase Pipe Mast [100/200 Amp]:
120/240 Single phase Meter Pole [100/200 Amp]:
List of Inspection Companies by County [PA UNIFIED CODE]:
WEC Minimum Vertical Clearance [WEC/NEC/NESC/DOT]:
Tree Trimming Guide for New Services [WEC]:
WEC Power Requirement - Load Form [for Non-Residential Accounts]: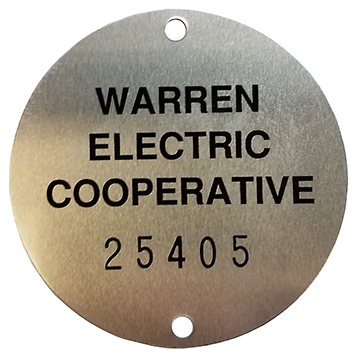 There are often a few different tag numbers on a pole for all the various attachments, including phone, cable, etc.
All Warren Electric Cooperative poles are marked with a circular silver tag like the image above.
When you are calling to set up a new service, you must have the tag number from the closest Warren Electric pole to your new service location.